what is 'sustainability'?
'Sustainability' is a general term that means many things to many people.
Broadly, 'sustainability' is about environmental resilience and societal well-being, considered in terms of economic and social costs and benefits.
Understanding what 'sustainability' means to you and your organization is critical to defining, implementing, and achieving your strategy.
For today's leaders, the questions are vast and profound, but soluble.
Good strategy should always start with asking the right questions and using theb right decisions.
In this white paper, we share our view on 'sustainability' in regards to FMCG packaging with the goal broadening horizons and inspire leaders to make holistic decisions that drive meaningful change to make a real difference today.
---
what is 'sustainability'?
Sustainability
An umbrella term covering environmental resilience and societal well-being topics from financial growth, to fair labor, carbon emissions, and many more.
Corporate Social Responsibility (CSR)
Self-regulating business guidelines where companies are conscious of the impact they have on society, including environment, economy, and people.
Environmental, Social, & Governance (ESG)
Standards that potential investors use to screen companies they may potentially invest in. Increasingly used internally by companies to replace CSR.
Real Circularity
An approach to product design being adopted by a fast growing number of industries and companies as part of their ESG standards in which raw materials, components, and finished products lose as little of their value as they are used and, eventually, recycled, and reused.
Life-Cycle Assessment (LCA)
A cradle-to-grave (or cradle-to-cradle for beWater™) tool to evaluate ESG and real circularity compliance through the stages of a product's or service's life, from raw material extraction, production, distribution, use, collection, and recycling.
Circular Approach
The current approach to LCA that evaluates a wide range of factors (e.g. global warming potential, acidification, eutrophication, ozone depletion, recycling rates, renewable energy, etc) to deliver a more transparent and holistic view of a product's LCA impact and ESG compliance. Coming under IFRS and ISO regulation TC 323 and WD 59020.2 (replacing the older ISO 14040 to 14044).
Linear Approach
An outdated approach to LCA that focuses on specific areas or factors
(e.g. carbon emissions) instead of a holistic data set. Yields biased results
that cannot be generalized to other regions or categories.
---
current state of ESG & LCA
Preliminary ESG reporting guidelines have been issued by IFRS and international LCA guidelines based on the circular approach are close to being finalized by ISO, but today's regulatory landscape remains fragmented.

Generally, circular ESG and LCA reports contain more data, while linear ones contain less - this is why the majority of regulatory bodies, industries, and companies are adopting a circular approach.

Data fidelity is quickly improving, but there are gaps, specifically in AMEA and LATAM - companies like Ball Corporation and Eunomia are nearing completion of FMCG LCA reports for these areas, including Vietnam, that will provide valuable insights into packaging materials.

As global companies implement their own ESG strategies, it's critical to factor in local data - what's best in one region may not be in another. At beWater™, we are transparent about where our products best align with a customer's ESG standards and where they don't.

Customers don't need to do all the work themselves - taking an Extended Producer Responsibility (EPR) approach, which is mandatory in Vietnam, shifts some ESG accountability to the supplier and, at beWater™, we believe a supplier should be able give a top line LCA on their products and ensure that they, as an entire company (not just in individual products), have done their best to be sustainable.
---
current state of ESG & LCA
When choosing a water package, you're choosing a brand, not an individual product.

When choosing what to offer guests or consumers you're choosing a brand, not just a product that aligns with your sustainability guidelines.
Aluminum cans are the most preferred packaging material globally to glass, PET, or carton and, while most global brands, like Dasani, Aquafina, and local brands, like Alba, La Vie, and Vikoda, have introduced some aluminum canned water, the majority of their portfolios are glass or PET and they remain the worst polluters in the world.
beWater™ is the only water brand in SE Asia designed to always be plastic-free.
---
current state of ESG & LCA
There are five key areas of ESG impact for packaged water: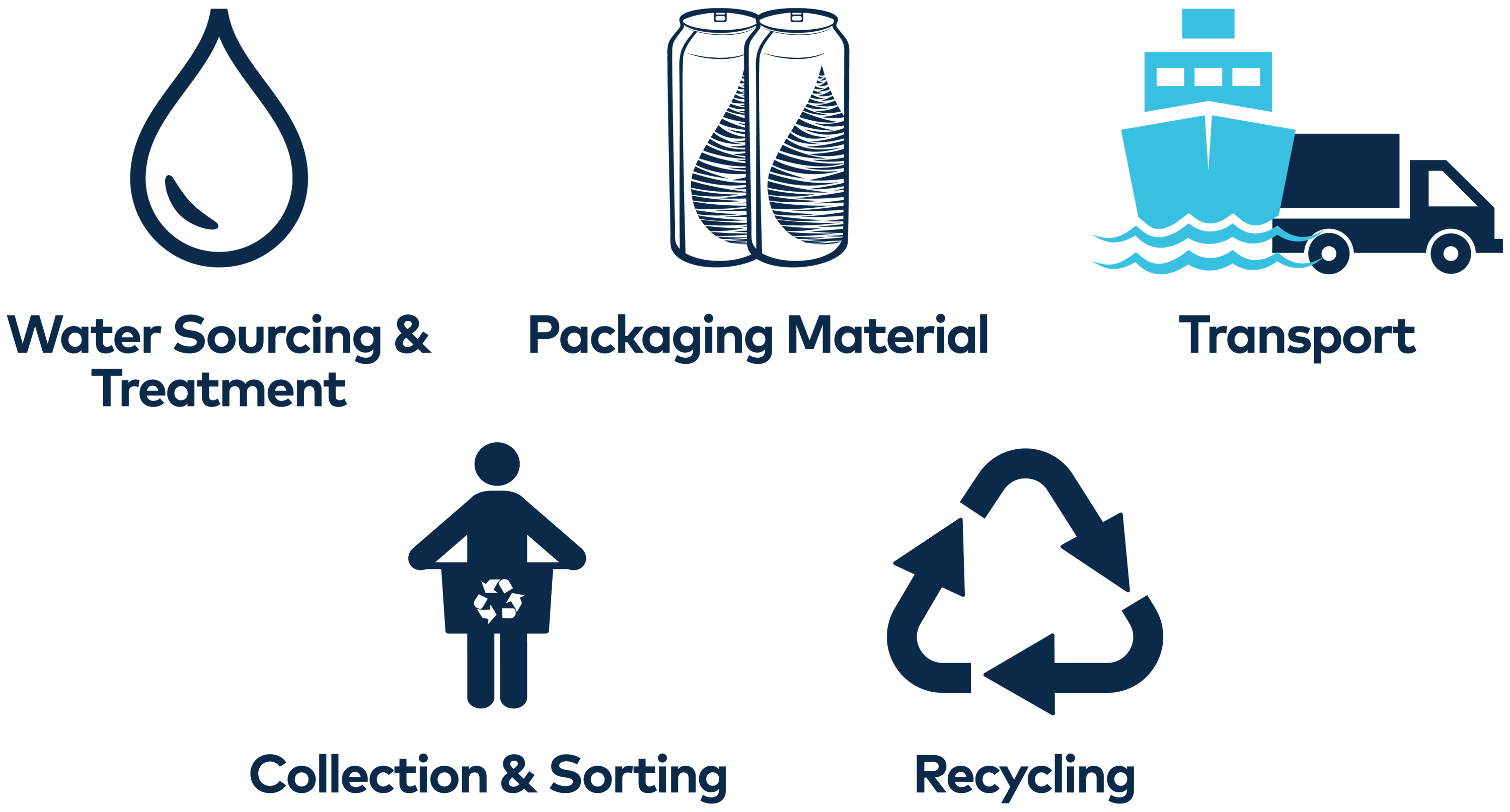 As global travel resumes after COVID, we look to industry leaders and close beWater™ customers in large hospitality groups,to take the pulse of ESG in a sector that touches many people and aspects of ESG and now, even more than before, is focused on setting high standards.
Accor's latest Environmental Footprint Report, produced by Quantis, recognizes water as a critical component of its ESG strategy and details the steps the Group is taking to make the right decisions.
In our view, Accor's report is a best-in-class example of ESG leadership, both in terms of evolution from earlier more linear thinking to a circular approach and also in relation to water, specifically identifying "that it is necessary to tailor actions to suit local contexts (and) water stress is the best illustration of this" and "a hotel's location be taken into account when assessing water stress".
We'll explore the five key areas of ESG impact for packaged water in our home market of Vietnam in the next sections. Coming soon...